With a focus on protective factors we can all support transitions – big or small – in children's lives.
On Thursday May 31, 2018, KidsMatter Consultants Sandy Clark and Nikki Edwards joined us for a webinar exploring transitions with a focus on protective factors and every day transition experiences that educators can put into action today.
Transitions signify the end of something and beginning of something else.
They play a significant part in the life of any child, adult, school and early childhood service.
For BIG transitions in a child's life―like starting primary school― we often think in terms of how to prepare children and support their mental health and wellbeing.
However, throughout our lives, little transitions fill each day too. 
Whether transitions are big, or little, we can build protective factors for children's mental health and wellbeing into them. By filling children's lives with little transitions that are positive experiences, the BIG ones are often not so big either.
Sandy and Nikki explored how using the KidsMatter framework can support us in filling the little, and BIG transitions, in a child's life with protective factors for their mental health.
Recording of the webinar event
Keyboard shortcuts
Full screen - f key.
Play/pause - spacebar key.
Volume - up/down arrow keys.
Skip - left/right arrow keys.
Closed captions - c key.
|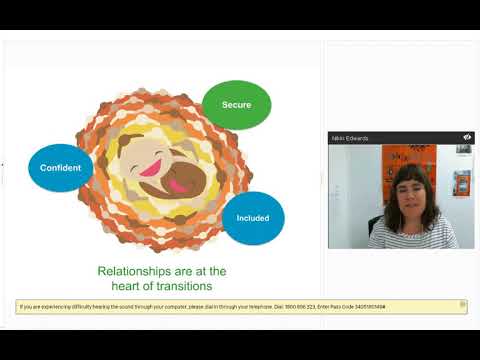 You can also:
KidsMatter resources that relate to presenters' topics
The Four component of the KidsMatter Early Childhood Framework 
KidsMatter Early Childhood ebook collection 
How KidsMatter links to the National Quality Standard (and the related eBooks) 
KidsMatter Starting School videos and resources 
KidsMatter Early Childhood Facebook post: What defines a child as being ready?  
KidsMatter Professional Learning Component 2  Topics 2 and 3
Other Resources that relate to the presenters' topics
Circle of Security http://circleofsecurity.net/ accessed March 2015
Cooper, Glen The two little rowboat metaphor in Dolby, Robyn; Hughes Eilish & Friezer Belinda Secure transitions: supporting children to feel secure, confident and included A research in practice services ECA 2013
Dolby, Robyn with Hughes, Eilish and Friezer, Belinda Secure transitions: supporting children to feel secure, confident and supported ECA publication 2013
Linke, Pam  Managing change with infants and young children ECA publication 2006
Linke, Pam. Everyday Learning about managing change. ECA Everyday learning series Vol 8 No 1 2010
Ostrosky, MM, Jung, E Y, Hemmeter M. L. What works  training kit #4, Helping children make transitions between activities:  Centre on the Social and Emotional Foundations for Early Learning Jan 2008 http://csefel.vanderbilt.edu/resources/training_kits.html  accessed March 2015
Perry, Bruce in Linke Pam, Everyday Learning about managing change Pages 2-3 ECA Everyday learning services Vol 8 No
Siegel, Dan J MD & Bryson Tina Payne , PHD The Whole Brain Child: 12 Revolutionary Strategies to Nurture Your Child's Developing Mind,  Bantam. 192 pages. 2012
Zero to Three School Readiness Interactive Birth to 3  accessed March 2015 http://www.zerotothree.org/early-care-education/school-readiness-interactive-birth-to-3/
Zero to Three: Temperament Reaction to change  accessed March 2015 http://www.zerotothree.org/child-development/temperament-behavior/temperament-characteristics-reaction-to-change.htm