Keyboard shortcuts
Full screen - f key.
Play/pause - spacebar key.
Volume - up/down arrow keys.
Skip - left/right arrow keys.
Closed captions - c key.
|
|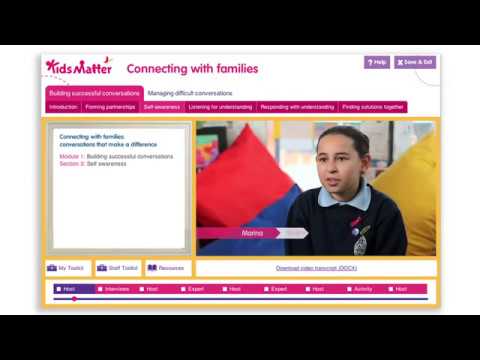 Working with families helps to ensure the best outcomes for children's mental health, as well as their learning and development. Effective communication forms the basis of positive relationships that lead to partnerships and co-operative solutions.   
This elearning course, hosted by TV personality Brian Nankervis, aims to build on skills that you have and provide a step by step process to assist in your conversations with families. You can get an idea of what the course is like from the video above. Module one explores the skills and tools that will be useful in any everyday interaction with families, including practical ideas and activities to try. Module two looks at using these skills and other strategies when managing difficult conversations.
You can stop and start and finish the modules when convenient. You will receive a certificate upon completion of each module.
The modules are interactive and there are lots of additional resources, ideas and activities you can download and share with your ECEC service or school. While the modules focus on working with families the content will be useful for any conversation with children, colleagues and so on.