This webinar focusses on managing aggressive behaviours in primary school children and is suitable for primary school educators and staff, as well as health and community professionals.
It features a panel of experts who discuss a fictional case study about Grade 4/5 teacher Mr Adams, who has two students in his class who display aggressive behaviour towards the teacher, the Learning Assistant and other students, both in the classroom and the playground. Read the case stude here.
The panel explores how aggressive behaviours can present in primary school children, and strategies to reduce aggressive behaviours and support positive behaviours in the classroom and school.
Learning objectives
At the completion of this webinar, participants will:
better understand how aggressive behaviours can present in primary school children and what the underlying causes may be
learn strategies to help reduce aggressive behaviours, and support positive behaviours, in the school and classroom
extend their knowledge about working collaboratively with families, school staff, and health and community professionals.
You can watch the webinar recording below, or download it to watch offline later.  If you did not attend the webinar, but would like to claim professional development points, you can view the webinar recording and supporting resources, then complete the Self-directed learning record.
Keyboard shortcuts
Full screen - f key.
Play/pause - spacebar key.
Volume - up/down arrow keys.
Skip - left/right arrow keys.
Closed captions - c key.
|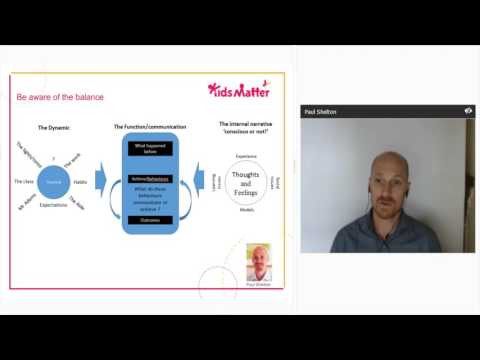 Panel
The webinar features an interdisciplinary panel of experts:
Paul Shelton
Teacher and consultant
Paul has worked both in Australia and abroad in a broad range of teaching, consulting and school support roles from  working with the National Autistic Society, running a primary school 'nurture unit', mainstream education and teaching in an alternative setting for students with diagnosed 'social, emotional and behavioural disorders'. More recently, Paul completed a Masters focusing on teacher readiness and self-efficacy regarding behaviour management approaches. Since then Paul has worked in the mental health field both through inpatient and outpatient programs for Princess Margaret Hospital and the Austin Hospital as well as the promotion/prevention field as State Coordinator for KidsMatter. Paul currently works as a Network Coordinator with the Powerful Learning and Teaching Project.
Nerida Kinross-Smith
School psychologist
Nerida Kinross-Smith works as a psychologist for the Department of Education and Training in Geelong. Coming from a clinical background in community health, acute mental health and private practice originally, Nerida has been working in schools for the past 13 years in both Victoria and Tasmania. Nerida plays a senior role in her multi-disciplinary team, and is an AHPRA-approved supervisor, usually with post-graduate students under her supervision. She enjoys this teaching component of her job, and the chance to contribute to the professional development of the next generation of psychologists. She also likes the diversity of her position which means she works with parents, teachers, Principals and community agencies around the children she is referred. Nerida coordinates the applications for funding under the Program for Students with Disabilities (PSD), and services both primary and secondary school students. She has a particular interest in hypnosis with children.
Facilitator: Vicki Cowling, OAM
Social worker and psychologist
Vicki Cowling, OAM, works as an independent practitioner in child and family mental health.  Vicki has worked with children and families in government and non-government settings, including public child and adolescent mental health services, in Victoria and New South Wales.  She has also held positions in the field of mental health promotion, and has conducted research concerning children of parents with mental illness and their families, leading to publication of books and articles. Vicki is an Accredited Mental Health Social Worker, Registered Psychologist, and member of the National Mental Health Committee of the Australian Association of Social Workers.
Resources
Aggressive behaviours webinar: slideshow [712KB] 
Aggressive behaviours webinar: Supporting resources [218KB] 
Aggressive behaviours webinar: case study [211KB] 
Aggressive behaviours webinar: panellists bios [270KB]
Aggressive behaviours webinar: BETLS  [2MB] 
Aggressive behaviours webinar: Self-directed learning record [363KB]