This webinar was held on Wednesday 15 June 2016 and focusses on suicide prevention in primary school settings. It is suitable for viewing by health and community professionals and primary school educators, and is facilitated by psychologist Dr. Lyn O'Grady. 
The panel of experts discusses a fictional case study [207KB] about Ms Lavis, who has started teaching at a school recently affected by a parent's suicide. Ms Lavis is unsure about how best to support her students, and is concerned about a child in her class who has become increasingly withdrawn.
Learning Objectives
At the end of the webinar, participants will have developed an understanding of:
the importance of suicide prevention and how this links in with mental health promotion, prevention and early intervention in primary school settings
strategies to respond to students expressing suicidal thoughts or behaviours
ways to work collaboratively to build resilience with families, school staff, and health and community professionals in the area of suicide prevention.
You can watch the webinar recording below, or download it to watch offline later.  If you did not attend the webinar, but would like to claim professional development points, you can view the webinar recording and supporting resources, then complete the self-directed learning record.
Keyboard shortcuts
Full screen - f key.
Play/pause - spacebar key.
Volume - up/down arrow keys.
Skip - left/right arrow keys.
Closed captions - c key.
|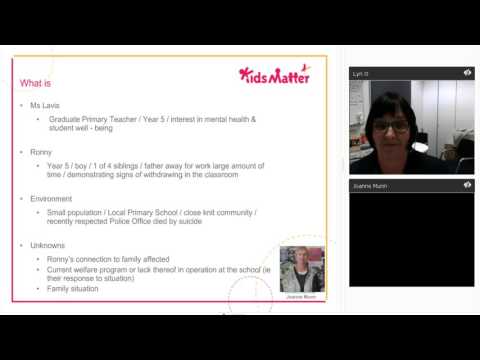 Panel
This webinar features an interdisciplinary panel of experts:
Maria Ruberto
Consultant Psychologist
Maria has worked extensively for 20 years within the areas of Educational Leadership and Trauma Response, and moved into the management of statewide initiatives around Student Wellbeing with the Department of Education and Early Childhood Development, Western Region. Her work has included beyondblue and Travancore School of Mental Health, which is a partnership with the Royal Children's Hospital and Orygen Youth Mental Health. Maria is the director of Salutegenics Psychology, a strengths-based practise in Essendon that moves people in personal therapy and coaching toward mental fitness and life-health. Maria's work is heavily influenced by Positive Psychology theory. Maria delivers workshops and professional learning to organisations focused on teaching people to open their lives, apply optimistic tools and activate positive affectivity within a meaningful and fulfilling life. The core mission of her work is moving young people and adults from languishing to flourishing, with respect, resilience and resolve.
Joanne Munn
Assistant Principal, Hastings Primary School, Victoria
Jo has been a primary school teacher for more than 40 years with the last 12 years as an Assistant Principal. Jo leads the KidsMatter and Student Well-Being teams. Jo's first encounter with the KidsMatter initiative was in 2006 when Hastings Primary School was selected to be a pilot school in the trial. Since then, she has been part of the journey progressing to national recognition in 2013. Through a dedicated whole-school approach to KidsMatter, Jo has witnessed the evolution of a cultural change through the creation of a supportive school community committed to providing the best possible social and emotional outcomes, leading to the promotion of a mentally healthy community. Hastings Primary School has been willing to advocate the great benefits of being a KidsMatter school and encourages other schools to adopt the KidsMatter Framework by sharing the schools strategies, successes and heart-warming stories.
Tegan Cotterill
Acting Program Manager – Hunter Institute of Mental Health
Tegan Cotterill is an Acting Program Manager with the Hunter Institute of Mental Health in Newcastle, NSW. She has a Bachelor of Social Work from the University of Newcastle and over 12 years' experience working in mental health promotion, suicide prevention and clinical services. Tegan's current role involves leading the development of evidence-based suicide prevention resources and programs as well as providing training and consultation.
Facilitator: Dr Lyn O'Grady
Community Psychologist
Lyn O'Grady is an experienced Community Psychologist with a particular interest in the mental health and wellbeing of children, young people and families. This interest has extended in recent times to understanding suicidality and she is in her second year of the Master of Suicidology at Griffith University. Lyn's work history has included roles within the education, health and community sectors. She has worked with parents in parenting programs, individually at the community level and in schools for over 20 years. Lyn also worked as a school psychologist in the Western Metropolitan Region of Melbourne. At a more systemic level, she currently works as the National Project Manager for KidsMatter at the Australian Psychological Society
Resources
Suicide prevention webinar: slideshow [926KB]
Suicide prevention webinar: supporting documents [139KB]
Suicide prevention webinar: case study [207KB]
Suicide prevention webinar: panellists bios [161KB]
Suicide prevention webinar: participant guide [512KB]  
Suicide prevention webinar: self directed learning record [410KB]