On Tuesday 28 April 2015 at 7:30pm (AEST), KidsMatter held a webinar focussed on a series of animated films developed to support the social and emotional wellbeing of Aboriginal children.  
The webinar's  expert panel [328KB] discussed a series of KidsMatter animated films and accompanying resources that have been developed to help schools, early childhood services and health and community professionals support the social and emotional wellbeing of Aboriginal children. The discussion focussed on one animated film in particular, called "Nana's Painting".
Learning Objectives:
At the completion of this webinar, participants will:
gain insight into the collaborative development process behind the resources, and the strength and value of the finished resources,

develop knowledge of how the films might be used in schools, early childhood services and community settings and develop an understanding of the resources which support their safe use, and 

develop an increased understanding of factors influencing Aboriginal social and emotional wellbeing.
All the films and supporting resources have been developed by the Australian Psychological Society, in collaboration with Aboriginal cultural consultants from diverse geographical locations including Victoria and Central Australia, and are designed to communicate key messages about Aboriginal children's social and emotional wellbeing.  
The cultural consultants all hold strong interrelationships with communities and networks and are regarded highly by community members. Drawing on their own life and professional experiences, the consultants have contributed their deep understandings of social and emotional wellbeing from an Indigenous worldview.
The film content was reviewed by Indigenous psychologists in the context of contemporary research in Indigenous social and emotional wellbeing.
The supporting resources are designed to guide professionals working in schools, early childhood services and health and community services to determine how the animations could be used.
You can watch the video below or download it to watch offline later. The audio is also available to download.
Keyboard shortcuts
Full screen - f key.
Play/pause - spacebar key.
Volume - up/down arrow keys.
Skip - left/right arrow keys.
Closed captions - c key.
|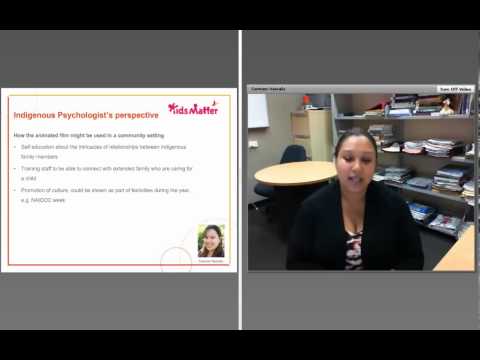 If you did not attend the webinar, but would like to claim Professional Development points, you can view the webinar recording and supporting resources, then complete the  Self-directed Learning Record [374KB].
Panel
Carmen Naivalu
Indigenous Psychologist
Carmen is a Larrakia woman who was born in Darwin and raised in Canberra.  She is a Clinical Psychologist who provided expert advice in the first phase of the KidsMatter Aboriginal animations project about Aboriginal social and emotional wellbeing. Carmen recently returned to her birthplace to commence a PhD at Charles Darwin University.  She hopes her past and present research will shed light on the underlying issues of Aboriginal mental health and wellbeing, and will contribute to improving practice and research with Aboriginal communities. Carmen was a founding member of AIPA's Steering Committee and until recently was the convener of the APS Interest Group 'Aboriginal and Torres Strait Islander Peoples and Psychology', before stepping down to focus on her PhD.
Jade Fraser
Early Childhood Education Consultant
Jade has worked in the Early Childhood sector for fifteen years as an Educator, Children's Service Director, Parenting Support Facilitator and Early Childhood Education Consultant. Her experiences have included working for Aboriginal children's services and services educating and caring for children from culturally and linguistically diverse backgrounds.  Throughout her career, Jade has advocated for children's cultural and linguistic rights and the importance of valuing Aboriginal cultures and perspectives in all Australian early childhood services. She currently works as an Early Childhood Education Consultant.
Rachael McBrien
Early Childhood Educator
Rachel has been teaching kindergarten for 20 years and is the Educational Leader and KidsMatter Leader at her centre. Recognizing a need in her community for a greater number of kindergarten places, she worked collaboratively with the kindergarten community, local council, the local catholic school, church and the Department of Education and Early Childhood to build a new 2-room kindergarten on the school site. Through this project Rachael developed strong relationships with her community.  
Dr. Lyn O'Grady
School and Community Psychologist
Lyn O'Grady is an experienced Community Psychologist with a particular interest in the mental health and wellbeing of children, young people and families.
Lyn's work history has included roles within the education, health and community sectors.  She has worked with parents in parenting programs and individually at the community level and in schools for over 20 years. Lyn also worked as a school psychologist in the Western Metropolitan Region of Melbourne.
At a more systemic level she currently works with the Wellbeing & Community Partnership Unit of the Catholic Education Office Melbourne. She worked as a National Project Manager for KidsMatter Primary at the Australian Psychological Society for four years, including leading the resource development of the KidsMatter Aboriginal and Torres Strait Islander Project.
Resources
Guidance for Safe Use:
Animated film "Nana's Painting"