The interdisciplinary panel discussed a case studyexploring the challenges faced by Declan (aged 3) and his sister Kyra (aged 10) whose mother suffers from a mental illness and whose father is often away from home, working to support the family financially.  The panel discussed different ways to recognise and respond to the needs of the children, within their school and early childhood service, as well as how to strengthen relationships and networks to support their social and emotional wellbeing. 
Learning Objectives
After viewing this webinar, participants will be better equipped to:
recognise, understand and respond to the needs of children of parents with a mental illness, in schools and early childhood services

strengthen relationships and networks that can support the child's mental health and wellbeing, including engaging families and promoting social and emotional wellbeing 
You can watch the webinar video below or download it to watch offline later. 
Keyboard shortcuts
Full screen - f key.
Play/pause - spacebar key.
Volume - up/down arrow keys.
Skip - left/right arrow keys.
Closed captions - c key.
|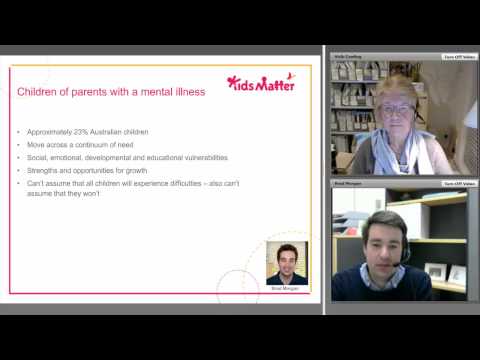 You can claim Professional Development points by viewing the webinar recording and supporting resources, and then completing the Self Directed Learning Record [366KB].
Panel
Mr Brad Morgan
Director – Children of Parents with a Mental Illness (COPMI)
Brad Morgan is Director of the Children of Parents with a Mental Illness (COPMI) national initiative. This initiative provides specialised advice and support to government and key stakeholders regarding the development, implementation and evaluation of policy and activities that support improved mental health outcomes for children of parents with a mental illness.  Brad trained as an Occupational Therapist and has previous experience working in rural communities in mental health promotion, early childhood development, and workforce development. 
Ms Laura Francis
Community Development Coordinator, based in South Australia
Laura Francis has been working in Early Childhood Education for over 20 years. She is currently the Community Development Coordinator at Keithcot Farm Children's Centre in South Australia where she facilitates support for families within the wider community, including a program of information sessions, parenting groups and networking to extended support services.  Laura also has experience with Mission Australia as a regional manager for Long Day Care services, as a Validator of Long Day Care services with the National Quality Assurance Scheme, and as an active Board member for Network SA Resource, Advisory and Management Services.
Ms Elizabeth Thomas
School Principal, retired, based in Victoria
Elizabeth Thomas has been a school educator for 40 years, with 10 years as a Principal.  She is passionate about student wellbeing and loves working with staff and external providers to support families. Elizabeth has been involved with SKIPS (Supporting Kids in Primary Schools) for over 10 years and is a trained SKIPS presenter.  She was involved in discussions to create Supporting children of parents with a mental illness and presented at the launch of this document.  Elizabeth created a school environment where many processes and programs were implemented to support students, staff and families, KidsMatter being one of them.
Facilitator: 
Vicki Cowling, OAM
Accredited Mental Health Social Worker
Vicki Cowling, OAM, works as an independent practitioner in child and family mental health.  Vicki has worked with children and families in government and non-government settings, including public child and adolescent mental health services, in Victoria and New South Wales.  She has also held positions in the field of mental health promotion, and has conducted research concerning children of parents with mental illness and their families, leading to publication of books and articles. Vicki is an Accredited Mental Health Social Worker, and member of the National Mental Health Committee of the Australian Association of Social Workers; and a member of the Australian Psychological Society.
Resources
Webinar 5 Participant Guide [510KB]
Webinar 5 Power Point Slides [195KB]
Webinar 5 Panellists Bios [204KB]
Webinar 5 Additional Resources [192KB]