This KidsMatter's webinar focussed on supporting infant mental health.  It was facilitated by Jo Cole, who is a clinical psychologist and Manager of Psychology at Canberra Hospital and is suitable for health and community professionals and early childhood educators.
An interdisciplinary panel discussed a fictional case study, involving baby Cooper and his parents Rebecca and Paul. Cooper was conceived through IVF, had a difficult birth and is quite unsettled. Rebecca very much wanted a child, but is struggling now with the demands of being a new mother. Read the Infant mental health case study [189KB] here.
The panel explored the importance of mental health in infancy, infant and parental risk and protective factors and the importance of collaborative interventions with early childhood and health and community services.
Learning Objectives
At the completion of this webinar, participants will:
have developed an understanding of the importance of mental health in infancy, including the emotional needs of infants and their families
be better equipped to identify and address infant and parental risk factors, and build on protective factors
be able to recognise the importance of interventions that aim to support infants and their families and that work collaboratively with early childhood, health and community services
You can watch the webinar recording below, or download it to watch offline later.
Keyboard shortcuts
Full screen - f key.
Play/pause - spacebar key.
Volume - up/down arrow keys.
Skip - left/right arrow keys.
Closed captions - c key.
|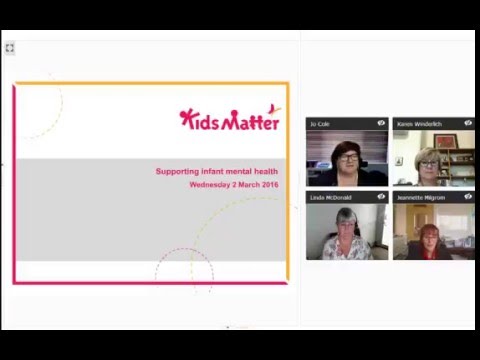 Panel
Professor Jeannette Milgrom
Clinical psychologist
Jeannette Milgrom is Professor of Psychology, University of Melbourne and Director of the Parent-Infant Research Institute (PIRI), Austin Health. PIRI is a centre of excellence conducting basic and applied research with a focus on high-risk infants, ante and postnatal depression and anxiety, prematurity, developing psychological treatments and screening. She has had a major role with beyondblue in the National Perinatal Depression Initiative. She is recipient and CI on 70 research grants and is a well-published author. 
Karen Winderlich
Early childhood educator
Karen Winderlich is a teacher who has worked in various contexts and with learners of all ages, from babies right through to adults. She has been privileged to spend much of the last 10 years working with and alongside babies and their families in long day care settings, and has a passion for making these, our youngest citizens and learners, visible and audible as the wonderful and competent learners that they are. 
Linda McDonald
Child and family nurse
Linda McDonald is a registered nurse and midwife currently acting as a consultant with the Maternal Child Health Nurses in the Women's Youth and Children's Community Health Program (ACT). Linda works as a coordinator for the IMPACT Program, which works with families who are on Opioid Maintenance and /or are clients of Mental Health ACT (moderate to severe mental health issues), who are pregnant or have a child less than 2 years of age. She has been working in the community setting since 1988 starting as a Generalist Community Nurse specialising in Maternal and Child Health Nursing in 1995.
Facilitator: Jo Cole
Clinical psychologist and Manager of Psychology at Canberra Hospital
Jo Cole is a clinical psychologist with twenty years experience and is currently the Manager of the Acute Support Psychology team at the Canberra Hospital.  She has a background in infant, child and adolescent mental health with a strong interest in mental health promotion, prevention and early intervention.  She was the Manager of the KidsMatter Early Childhood initiative for the Australian Psychological Society from 2009-2015. 
Resources
Infant mental health case study [189KB]
Infant mental health panellists bios [4MB] 
Infant mental health webinar slideshow [532KB] 
Infant mental health supporting resources [231KB] 
Webinar participant guide [2MB]
Registration for GAPND and UMII [507KB]
MumMoodBooster article [239KB]
MARCE Presidents Message [184KB]