This KidsMatter webinar, suitable for viewing by health and community professionals and early childhood educators, focussed on supporting infants and toddlers with anxiety and was facilitated by psychologist Lisa Sheen. 
An interdisciplinary panel discussed a fictional case study, involving 15-month old Jada and her parents Amira and Raheem.  Amira is worried about Jada, as she has recently started childcare but becomes very distressed and doesn't settle while they are separated. Read the case study here.
The panel explored the signs of anxiety in infants and toddlers, its causes and potential impact on the wellbeing of infants, toddlers and their families, and ways to support these children.
You can watch the webinar recording below, or download it to watch offline later.  If you did not attend the webinar, but would like to claim Professional Development points, you can view the webinar recording and supporting resources, then complete the self-directed learning record.
Keyboard shortcuts
Full screen - f key.
Play/pause - spacebar key.
Volume - up/down arrow keys.
Skip - left/right arrow keys.
Closed captions - c key.
|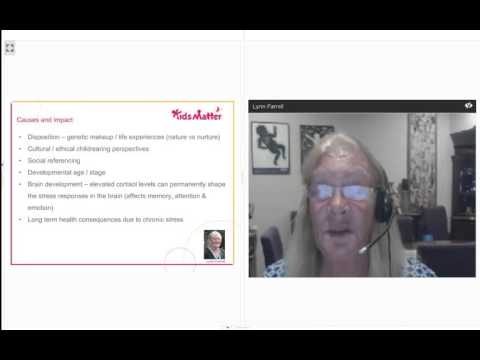 Learning objectives
At the end of the webinar, participants will:
be better equipped to recognise the signs of anxiety in infants and toddlers
have a better understanding of the causes of anxiety and its potential impact on the mental health and wellbeing of infants, toddlers, and families.
be better equipped to support families, infants and toddlers with anxiety. This includes working collaboratively with early childhood services, health and community professionals.
Panel
Dr. Kimberley O'Brien
Child psychologist
Kimberley O'Brien is one of Australia's most trusted child psychologists with a knack for solving problems from the child's perspective. With 20 years' experience, she is the co-founder of the Quirky Kid Clinic and an expert in child development and mental health.
She has lectured Doctorate and Masters students and published a chapter on "Positive parent-child relationships" as well as several titles with Quirky Kid. In 2016, Kimberley completed a Ph.D. through Monash University on "Belonging and socio-emotional wellbeing among students in transition from primary to secondary school".
Currently, Kimberley conducts practical workshops worldwide to diverse audiences and enjoys an active role in the Australian media.
Lynn Farrell
Early childhood educator
Lynn is the Integrated Services Manager at The Infants' Home, Ashfield. Her interests include infants and toddlers in group settings, children's rights and social justice. She has worked in children's services since the 1980's in a variety of roles including as a practitioner and as a leader. 
Facilitator: Lisa Sheen
Psychologist
Lisa Sheen is a psychologist and Resource Development Officer at KidsMatter. With a strong interest in the wellbeing of young children and families, she has worked across a range of private, hospital and community settings over the last 10 years, including the Royal Children's Hospital, Specialist Children's Service under the Victorian Department of Educational and Early Childhood Development, and as a psychologist within private practice. Lisa completed her Masters in Educational and Developmental psychology thesis on comparing the effectiveness of cognitive behavioural therapy interventions for children with anxiety. 
Resources
Infant anxiety webinar: slide show [5MB]
Infant anxiety webinar: supporting resources [217KB]  
Infant anxiety webinar: case study [210KB] 
Infant anxiety webinar: participant guide [2MB] 
Infant anxiety webinar: panellist bios [6MB] 
Infant anxiety webinar: self-directed learning record [2MB]