Learning Outcomes
This webinar is intended for early childhood services, schools & health and community professionals and it will focus on:
Increase understanding of Aboriginal social & emotional wellbeing
Guide the creation of culturally safe environments
Example of how the KidsMatter resources can be applied.
Webinar Recording
Keyboard shortcuts
Full screen - f key.
Play/pause - spacebar key.
Volume - up/down arrow keys.
Skip - left/right arrow keys.
Closed captions - c key.
|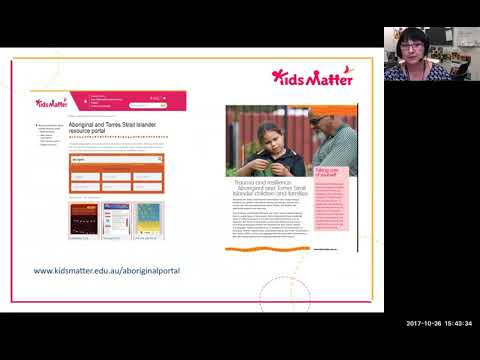 Download the webinar presentation
About the facilitators
Lone Pearce: Lone Pearce is the Senior Project Officer, Aboriginal and Torres Strait Islander, KidsMatter, APS (part-time), and the Aboriginal and Torres Strait Islander Engagement Officer, Mercy Community Services (Qld). Lone's cultural connections are Gunggari people (South West Queensland region) through his father, and he is equally proud of his non-Indigenous heritage.

Lone comes from 15+ years of public service at a State and National level undertaking policy, financial management, project management and community engagement particularly in the education field. With stints at The University of Queensland, and at the Queensland University of Technology.
 
Dr Lyn O'Grady: Dr Lyn O'Grady is a Community Psychologist with a particular interest in the mental health and wellbeing of children, young people and families. She is currently the National Project Manager for KidsMatter at the Australian Psychological Society.

Lyn's work history has included a range of roles within the education, health and community sectors.  She has worked with parents in parenting programs, individually at the community level and in schools for over 20 years. Lyn also worked as a school psychologist in the Western Metropolitan Region of Melbourne as well as at the Catholic Education Office Melbourne.