On 14 November 2013, in partnership with the  Mental Health Professionals Network (MHPN), KidsMatter held a free professional development webinar, Supporting children's mental health in schools and ECEC services. This was based on the case study [294KB] of the Orlov family, who have a three-year-old son and an eight-year-old daughter. They have recently moved to a new town and new education settings.  
Panellists shared their perspective on supporting the Orlov family with the challenges faced in their new environment and explored strategies to help the family settle into their new school and ECEC service. What factors will promote the family's mental health and wellbeing at this time of change? What can the family do to ensure a smooth transition? What happens if the children experience difficulties?  And more broadly, how can schools and ECEC services build effective partnerships to support children's mental health and wellbeing? 
The learning objectives for the event were for participants to:
Be better equipped to recognise, understand and respond to emotional, social and behavioural difficulties in children who attend early childhood and primary school settings

Have take home tips and strategies for building a positive community in schools and ECEC services, including engaging families and promoting emotional and social wellbeing 
You can also watch the video, download the audio of the webinar, plus all the resources from the day are also available below.
Keyboard shortcuts
Full screen - f key.
Play/pause - spacebar key.
Volume - up/down arrow keys.
Skip - left/right arrow keys.
Closed captions - c key.
|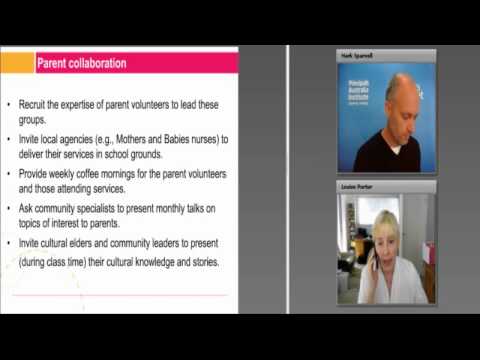 Panel
Professor Donna Cross (WA-based Professor of Child and Adolescent Health, Edith Cowan University)
Donna Cross is the Professor of Child and Adolescent Health in the School of Exercise and Health Sciences, Edith Cowan University and Founding Director of the Child Health Promotion Research Centre. She conducts applied school and family-based research in Australia and internationally to improve children and young people's health and wellbeing by reducing bullying including cyber bullying behaviours, road injuries, obesity and drug use behaviours.  She was the 2012 WA Australian of the Year.
Tracey Simpson (NSW-based early childhood consultant)
Tracey is an early childhood and community consultant, currently working on the KidsMatter Early Childhood Aboriginal and Torres Strait Islander project. Tracey has over 30 years experience in the education field. She was the Director, Community Partnerships and Early Years for Western NSW Region, Department of Education and Communities and Senior Lecturer in Education and Associate Head of the School of Teacher Education at Charles Sturt University. Her other experience has  included carrying out the role of advocate, teacher, director, coordinator, child development officer, educator, management committee member, board member, lecturer, researcher, senior manager and consultant in a range of services and locations. She has carried out these roles in early childhood education and care settings, schools, and tertiary education environments in metropolitan and rural NSW and internationally. She is recognised for her commitment to early childhood education and community development in regional and remote Australia. 
Dr Louise Porter (VIC-based clinical and child psychologist) 
Dr Louise Porter is a child psychologist with over 30 years' experience in private practice consulting with parents and practitioners about children's developmental and social or emotional challenges. She worked for 10 years in early childhood disability and mainstream settings and lectured at university in Adelaide for 13 years in topics relating to early childhood, special and gifted education, and behaviour management. She has a particular interest in how adults can guide children's behaviour, which was the subject of her doctorate. She has published widely, including: Children are people too, Young children's behaviour, Gifted young children, and Teacher-parent collaboration. She has also produced a parenting course and DVDs on children's behaviour and on giftedness. (See
www.louiseporter.com.au
)
Facilitator:  Mr Mark Sparvell, Associate Director of Professional Learning, Principals Australia Institute
Mark is currently the Associate Director, Professional Learning of Principals Australia Institute. Principals Australia Institute provides quality professional learning, leadership development and support to principals and school leaders. Mark leads work on the design and delivery of contemporary leadership learning across Australia and the Asia-Pacific. Mark's expertise is around 21st century learning design supported by innovative use of technology.  Mark is an experienced educator and school Principal. He was principal of Kadina Primary School, the largest regional school in York Peninsula, South Australia, Rapid Bay Primary and Victor Harbor R7 School.  Mark's leadership has resulted in his schools developing as high performing sites of recognised innovation. Currently Mark is working with the NSW Secondary Principals Council and Sri Lankan Education system on leadership development.