On 27 November 2014, in partnership with the  Mental Health Professionals Network (MHPN), KidsMatter held a free professional development webinar, 'We Do Better Together: Supporting the Mental Health and Wellbeing of Primary School Children and their Families'. This was based on the  case study [62KB]  of the Harper family, who have a seven-year-old son and a ten-year-old daughter.
Panellists shared their perspective on supporting the Harper family with the challenges they faced and explored strategies to help the children and family. What factors will promote the family's mental health and wellbeing? What can done to assist both children? And more broadly, how can schools build effective partnerships to support children's mental health and wellbeing? The case study was designed to be open ended in order to raise questions, provoke thought and generate discussion.
Through an inter-disciplinary panel discussion about the Harper family, at the completion of the webinar participants will:
Develop an increased awareness of the benefits of collaboration between mental health practitioners across primary school, health and community settings

Develop strategies to achieve effective and timely collaboration to support primary school-aged children experiencing mental health difficulties and their families
Develop an increased awareness of the benefits and opportunities for involvement with initiatives such as KidsMatter when working with primary school-aged children
You can also watch the video, download the audio of the webinar, plus all the resources from the day are also available below.
Keyboard shortcuts
Full screen - f key.
Play/pause - spacebar key.
Volume - up/down arrow keys.
Skip - left/right arrow keys.
Closed captions - c key.
|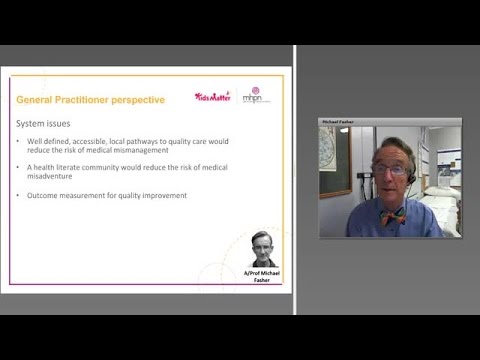 Panel
Dr Lyn O'Grady (Community Psychologist)
Lyn O'Grady is an experienced 
Community Psychologist with a 
particular interest in the mental 
health and wellbeing of 
children, young people and
families. 
Lyn's work history has included roles within the education, 
health and community sectors. She has worked with 
parents in parenting programs and individually at the 
community level and in schools for over 20 years. Lyn also 
worked as a school psychologist in the Western 
Metropolitan Region of Melbourne. 
She has also worked at a more systemic level with the  
Student Wellbeing Units of the Catholic Education Office 
Melbourne and the Victorian Department of Education and  
Early Childhood Development and as the National Project 
Manager for KidsMatter at the Australian Psychological 
Society. Lyn worked with a national team to develop mental 
health resources and form partnerships with the health 
sector to support schools in improving children's mental 
health outcomes. 
Associate Professor M

ichael Fasher (

General Practitioner)
Associate Professor Michael 
Fasher has been a general 
practitioner in Blacktown NSW 
for 35 years. He is particularly 
interested in paediatric and
adolescent medicine in general practice. He teaches 
medical students from the University of Sydney and the 
University of Western Sydney and registrars in the GP 
training program.
Ms Sally Young (

Social Worker)
Ms Sally Young is a Principal Social Worker at Mater Child 
and Youth Mental Health and works as a psychotherapist in 
private practice. She has done post-graduate training at the 
Tavistock Clinic, London and has completed the BCPS 
Child Psychotherapy Course. She is the Vice President of 
the Queensland Psychoanalytic Psychotherapy 
Association. 
Ms Sarah Letho (

Psychologist/Primary Welfare 

Officer)
Sarah Letho is a Psychologist who 
has worked with the Department of 
Education and Early Childhood for 
the past four years. 
Sarah is employed as a Student Support Services Officer 
(SSSO) and a Primary Welfare Officer (PWO) at Kingsley 
Park Primary School. As her role as a PWO, Sarah has 
brought the KidsMatter initiative to her school and is the 
Action Team Leader for the school. KidsMatter is now an 
integral part of how the school operates and we have used 
the initiative to help the overall wellbeing of children and 
supporting families at Kingsley Park. 
Vicki Cowling, OAM, is a clinical 
social worker and registered 
psychologist working as an 
independent practitioner in child 
and family mental health. 
Vicki has worked with children and families in government 
and non-government settings, including public child and 
adolescent mental health services, in Victoria and New 
South Wales. 
She has also held positions in the field of mental health 
promotion, and has conducted research concerning 
children of parents with mental illness and their families. 
This work has led to the publication of several articles, and 
edited books, the most recent being Infants of Parents with 
Mental Illness. 
MHPN KidsMatter webinar slides [456KB]
Case study of the Harper family [62KB]