Keyboard shortcuts
Full screen - f key.
Play/pause - spacebar key.
Volume - up/down arrow keys.
Skip - left/right arrow keys.
Closed captions - c key.
|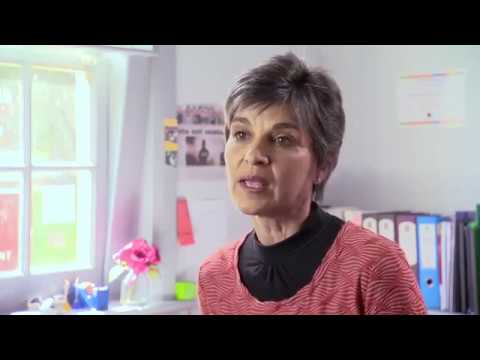 Why are school and community connections important?
Strong relationships between school staff and people in the local community can help schools to be interculturally-responsive. When schools work closely with community organisations (such as neighbourhood centres and religious groups), and with community services (for instance, allied health, employment, and multicultural services), children and their families benefit from the best support possible. For instance, schools and the local community can pool their valuable skills, knowledge, experience and resources, making it easier for all members to access culturally-sensitive assistance as needed. A rich collection of resources can be used to strengthen the social and economic fabric of the entire community. In addition, collaborative working relationships enable both groups to recognise and support one another's roles and responsibilities, as well as set shared goals to create the best outcomes for children and families.
Everyone benefits from positive connections
Benefits to school staff
School staff are more aware of the community resources available to support children with a diverse background and their families.
School staff are better supported to provide culturally-sensitive information and support to students and their families.
School staff have more capacity to be interculturally-responsive (eg due to formal and informal professional development opportunities).
Benefits to schools
Schools increase their visibility in the local community as serious and genuine supporters of children and families.
School staff feel valued and part of the community when they belong to a school that is recognised as an advocate of children and families.
Schools experience better educational outcomes when children with diverse cultural backgrounds have a sense of belonging, a strong cultural identity, and good mental health.
Benefits to students
Children learn more about their own community.
Children become known in the community by business owners, residents and others as individuals (reducing the stereotypes related to cultural background that can occur).
Through participation in the community, children feel their cultural background is valued and accepted (increasing their sense of acceptance, belonging and social and emotional wellbeing).
Benefits to families
Families find it easier to develop new connections and build new support networks.
Families learn more about their local community and find it easier to access services and support as needed.
Families can use the school as a place to come together and connect with other families and their local community.
Benefits to communities
Schools can become central locations where people come together to share skills, experience and information.
School facilities can be used as meeting spaces, community conference centres, and sites for community events.
Students can volunteer in community-based organisations and businesses (further strengthening links with the local community).
​Building school and community connections
There is no set way for schools to make connections with the community. The relationships they develop will depend on the needs of the school community and the type of support the community organisation or service provides and has the capacity to offer (Booth & Ainscow, 2002). Here are some ideas for connecting with community organisations, services and local leaders (which may be considered in your whole-school plan).
Introduction and scoping
Identify current school connections with the local community.
Invite families and staff to share their connections within the local community.
Identify key local community members and leaders who support students and families with diverse cultural backgrounds.
Identify organisations, services and local leaders that might support goals identified in the school plan.
Planning
This will involve developing goals and strategies that are part of your whole-school plan aimed at building community connections. For example:
Goal - develop shared values of the importance of community connections.
Strategy - involve all school staff and families in discussions about developing and strengthening relationships with community organisations that support children and families with diverse cultural backgrounds.
Goal - build intercultural responsiveness at school.
Strategy - prioritise time to meet to develop relationships with organisations that can help to build intercultural responsiveness.
Goal - create links with language and bicultural services.
Strategy - meet with identified services to discuss your need and their capacity.
Goal - support school staff to develop cultural knowledge.
Strategy - allocate time during the year for school staff to attend professional development (ideally, provided by local services to increase connections).
For more information on brainstorming and generating strategies, see the KidsMatter eLearning package Connecting with families: Conversations that make a difference.
Implementing
Develop a shared value for the importance of community connections (eg through translated newsletters, open forums, professional development for teachers).
Raise awareness of the benefits to children, their families and teachers for connections with the community.
Continually revisit and review action plan goals. Maintaining and sustaining school community partnerships
Part of developing relationships with organisations in your local community involves thinking about how they will be maintained and sustained. There are several factors that increase the likelihood that school and community partnerships will last over time, including:
agreeing on and developing clear goals for the relationship
developing clear statements of roles and responsibilities
having authentic two-way conversations about the relationship, supported by well-designed processes
positive relationships among schools, principals, families, community, teachers and students.
A relationship between a school and community organisation or service is more likely to be successful and maintained over time, when each of the above is in place.
Key factors
Sustaining a school community partnership also relies on a variety of other factors at the school, community and system levels. Key factors identified by National Curriculum Services (2013) are summarised below:
Leadership
A strong leadership team and people who agree to drive the process is an important factor in the sustainability of school-community partnerships. In many cases, the Principal will be a key member of the leadership team due to their managerial role in the school. However, shared leadership across a team is important, as no single person will have all of the knowledge or ideas - increased capacity, productivity and creativity comes from collaboration. The team then takes responsibility for: communicating the vision and the goals of the partnership; for connecting with children, families and the community about the partnership; and for organising the school's approach to the partnership.
Capacity-building
Sustainable school community partnerships also depend on all parties having the resources, processes, skills and knowledge required to bring the relationship to life. This will often involve professional development for all involved. Additionally, it helps if professional development is ongoing due to the fluid nature of cultural change.
Accountability
Accountability is essential for sustaining a school community partnership. Accountability isn't about blaming people when partnerships don't quite work as planned; it's about having a process to help monitor the progress of the partnership and make adjustments as required. As there is shared leadership, there is also shared responsibility. Two types of accountability that may help sustain a school community partnership are:
Accountability to the community, where schools and community organisations develop processes together to evaluate how well the partnership is working.
Internal accountability, where schools develop processes to assess how well the partnership is working in and for the school. Induction
A solid and clear induction process for new school staff is also critical to the sustainability of school community partnerships. Support for children and their families is maximised when staff are aware of established partnerships.
Succession planning
Succession planning is essential for partnerships to continue as staff and volunteers change. Often this can be as simple as having a planning process in place that is activated prior to a departure to ensure the knowledge and roles of the person leaving are shared with a new member of the team.
How are you connecting with your local community?
Connecting with community organisations, services and leaders may seem overwhelming if you are in an area with many services, or if you are in a rural town and it feels like there is little available. The diagram below page provides some ideas for connections you might make in your area. The table further down the document provides a template for you to use in identifying your current community connections, and those you would like to build to meet the goals of your whole-school plan. 
Community resources mapping tool 1
Community resources mapping tool 2
References
Booth, T., & Ainscow, M. (2002). Index for inclusion: Developing learning and participation in schools. Centre for Studies on Inclusive Education
Department of Education, Employment, and Workplace Relations (2011). Strengthening family and community engagement in student learning
National Curriculum Services (2013). Sustainable school and community partnerships: A research study
See also: