Keyboard shortcuts
Full screen - f key.
Play/pause - spacebar key.
Volume - up/down arrow keys.
Skip - left/right arrow keys.
Closed captions - c key.
|
|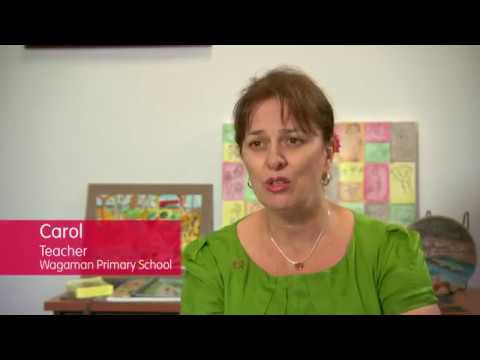 What is bullying?
Sometimes it's difficult to identify bullying behaviour. All children have small conflicts with each other from time to time (eg a disagreement over the rules of a game) as they are still developing the skills they need to regulate their behaviour and get on well with others. While experiencing this type of conflict can be difficult for children, it is a typical part of social development and is not necessarily bullying.
Our current understanding of bullying involves a student being exposed to injury or discomfort intentionally inflicted by one or more other students. Bullying involves a power imbalance and the behaviour is typically repeated over time, often resulting in a sense of oppression and low levels of psychological wellbeing and social adjustment for students. 
Bullying behaviour has several core elements that don't feature in other types of conflict between children. These are:
It is intentional and deliberate. A person who bullies someone else intends to cause them harm.
It happens repeatedly. Bullying behaviour is not a one-off event.
There is a power imbalance between the person who does the bullying and the person who experiences the bullying. The power imbalance might relate to physical size (eg the person who bullies is bigger than the person who experiences the bullying) or popularity (eg the person who bullies has a large amount of friends).
There are also different types of bullying behaviour. For more information, see the KidsMatter Primary
Children and bullying
information sheet.
What are the consequences of bullying?
Children who are bullied often experience anxiety and depression, have low self-esteem and don't feel safe at school. As a result, they often don't want to go to school and are absent more frequently than other children. Their learning is also sometimes impacted, because they are thinking about ways to avoid the bullying rather than concentrating on what's going on in class. Children who are bullied can feel isolated and sometimes don't have a lot of friends. Similar effects can exist for children who bully others.
Bullying has consequences for families too. It can be stressful for families to hear that their child is being bullied or bullying other children at school and sometimes they are unsure about what to do or where to go for support. Schools can support families by being a place that parents and carers can come to for advice and support about bullying.
How does KidsMatter Primary help schools to understand and prevent bullying?
While KidsMatter Primary is not specifically designed to help schools prevent and address bullying, the KidsMatter Primary framework and the four components of KidsMatter Primary help schools to address many of the risk factors related to bullying and build many of the protective factors that prevent and reduce bullying. 
Component 1: Positive school community helps schools to focus on building a school culture that provides safety, security and support for children, and emphasises the importance of positive relationships and promoting a sense of belonging. An environment characterised by positive relationships where everyone feels valued and supported is an excellent way to prevent bullying.
Schools can consider renewing or developing a school policy to address bullying when they develop their Action Plan for Component 1. 
A policy is more likely to be effective if it directly addresses bullying behaviour, raises awareness of what constitutes bullying in the school community, up-skills staff with effective evidence-based interventions, builds consistent staff and school responses that reflect school values, respects cultural diversity and reflects the social and emotional learning curriculum. This is what KidsMatter Primary refers to as a whole-school approach.
Schools might find it useful to refer to the 
National Safe Schools Framework (NSSF)
 when developing a policy as it assists schools in planning, implementing and maintaining a safe, supportive and protective learning community that promotes student safety and wellbeing. The NSSF aligns with the KidsMatter Primary framework and its element characteristics work well in guiding KidsMatter Primary component planning. 
Component 2: Social and emotional learning for students encourages schools to embed the teaching of social and emotional skills in the school curriculum as it can help to reduce bullying. Sometimes bullying can indicate that more focused work on building relationships in a safe and supportive school culture is needed. 
Teaching students skills to help them relate to others and understand and manage their emotions can improve relationships at the school and greatly reduce bullying behaviour. For example, teaching students social problem solving skills by helping them talk through social problems – why they happened and how they could be resolved – helps them to better manage conflict with their peers. Helping children to see conflict from the perspective of others (ie teaching empathy) can also reduce bullying behaviour because it increases children's motivation to behave in a socially acceptable way. 
When school staff model social skills and behaviours, it reinforces the teaching of social and emotional skills. Student management responses that reinforce the development and learning of social and emotional skills further support a positive culture that reduces bullying and maintains a safe and supportive school environment.
Component 3: Working with parents and carers helps schools to build strong, positive relationships with families. Good relationships between families and schools create more opportunities for families to be involved at the school.  This in turn means issues like bullying may be prevented or can be addressed more quickly and effectively.
Component 4: Helping children with mental health difficulties helps schools develop processes to recognise and respond to children's mental health needs. This means that support can be provided sooner to children who bully others and children who experience or witness bullying. 
What are you doing at your school?
These questions can be used to help you think about the ways your school community prevents and addresses bullying.
What is your school community's current understanding of bullying?
What has the school community done to understand bullying and why it occurs?
Do staff have the skills and confidence to prevent and address bullying using evidence-based bullying interventions?
Which policies and processes does your school have in place to address and reduce bullying?
Is everyone in the school community aware of the school policy and procedures that address bullying? Do staff, students and families know what to do if someone has a concern about bullying?
Is the current policy to address bullying effective? Why or why not? 
How do you support the mental health of all children at the school? This includes:

children who bully others
children who witness bullying
children who are bullied.

Is there anything you would like to change about the way your school prevents and addresses bullying? If so, how would you go about making those changes?
Other resources
References
1. Rigby, K. (2002). New perspectives on bullying. London: Jessica Kingsley
2. Rigby, K. (2006). What international research tells us about bullying. In Bullying Solutions. Editors: H. McGrath, & T. Noble. Sydney: Pearson Education, pp 3-17.